Shaving Cream vs. Shaving Foam: Exploring the Pros and Cons of Each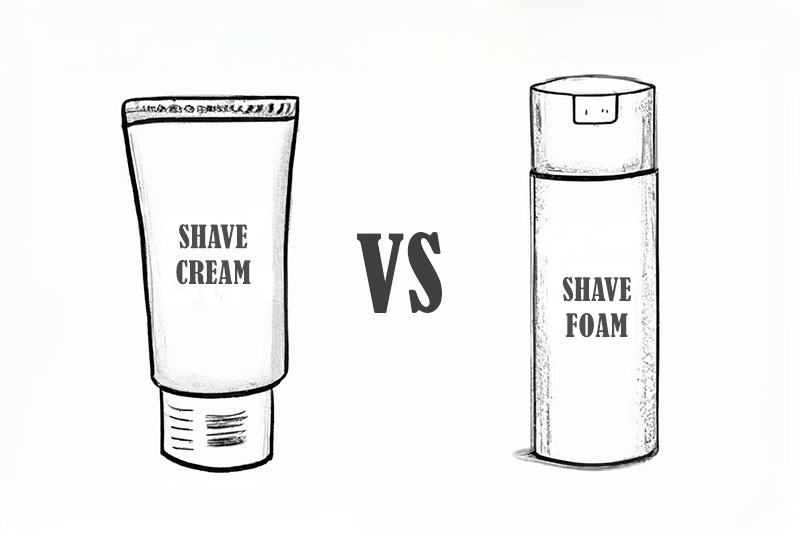 The difference between shaving cream and shaving foam lies in their consistency and method of use. Shaving cream usually comes in a tube and has a similar consistency to toothpaste. To use shaving cream, you need to build up a lather by whipping it up using a shaving brush and water. The shaving cream can be applied directly to the face or in a bowl. On the other hand, shaving foam comes in a pressurized container and is sprayed out as a finished foam using chemical propellants.
Important factors
Several factors can be taken into account when choosing shaving cream or shaving foam. Some of them are:
Quality
When it comes to the quality of the shave, we refer to skin irritation and the experience of a "close shave". Both shaving cream and shaving foam can give good results depending on how they are used. If you don't have access to a shaving brush or the knowledge of how to use a shaving brush, canned shaving foam can be an easier option.
But if you choose to use a shaving brush and shaving cream, you can experience a better shave. The shaving brush exfoliates the skin and removes dead skin cells, which allows the shaving cream to penetrate closer to the hair follicles. In addition, the bristles of the shaving brush provide better glide and reduce friction as they help distribute the shaving foam evenly and efficiently under the hairs. When the shaving foam is distributed properly and evenly under the hair, it becomes easier to shave without the razor pulling on or irritating the skin. The tiny fibers of the shaving brush act as support to create an even and optimal coverage of the shaving foam, which in turn contributes to a better shave. By using the shaving brush, you can achieve a smoother and a more gentle shave while reducing the risk of skin irritation and damage.
Contents and ingredients
Shaving cream and shaving foam have the same content, or are manufactured according to the same principle; a mixture of soapy fat and water with glycerin. But some brands may use different skincare ingredients or give different skin sensations. For example, the shaving cream may have added menthol to provide a cooling sensation. Regarding the ingredients to get the lather out of the can, shaving foam and shaving cream differ. Until the late 90s, companies used so-called chlorofluorocarbons or freons. This had to be abruptly stopped after the Montreal Protocol (entered into force in 1989) after the discovery that they damaged the ozone layer. Instead, they were replaced by gases and liquids such as pentane, propane, butane, and isobutane, which are flammable and may be less beneficial to the skin. Shaving cream does not need these ingredients and can be a better option for both the environment and your skin.
Price and performance
Shaving foam in a can tends to be cheaper than shaving cream in a tube. The shaving foam is usually available in larger volumes and can be purchased at a lower price per unit than shaving cream. This can benefit those on a tight budget or who want to spend less money on shaving products. Shaving cream on the other hand usually has a slightly higher price tag. This could be due to several factors, including the smaller amount of product in a tube and possibly higher quality ingredients used in the shaving cream. The price of shaving cream can also vary depending on the brand, ingredients and any extra features or benefits the product offers. In terms of performance, shaving cream can often offer a more luxurious and efficient shaving experience. The shaving cream has a richer texture and is designed to create a denser, creamier lather when mixed with water and used with a shaving brush. This allows the shaving cream to provide better glide, reduce friction and provide a smoother shave. Many users also find that shaving cream offers a more moisturizing and gentle shave than shaving foam. Shaving foam, however, provides a more convenient and quick solution for shaving. No extra time or equipment is needed to create the lather, as it comes ready-made in the can. Shaving foam can be more practical for those who want an easy and quick shave without having to use a shaving brush.
Summary
In conclusion, the choice between shaving cream and shaving foam can depend on your preferences and needs. If you want a more traditional shaving experience with a shaving brush and prefer better control over the lather, shaving cream may be the best option for you. But if you prefer a quick and easy shave without having to use a shaving brush, canned shaving foam can be handy. Shaving creams often also have more beneficial ingredients if you consider the environment.
Common concerns and questions about shaving creams
What type of shaving cream is best for my skin type?
When choosing shaving cream for your skin type, it's important to consider your individual needs. If you have sensitive skin, look for shaving creams that are specially formulated for sensitive skin and are free of potentially irritating ingredients such as perfume or alcohol. It can be advantageous to choose a shaving cream that does not contain alcohol and is free of potential irritants. For dry skin, consider shaving creams that contain moisturizing ingredients like glycerin or aloe vera to help hydrate and soften the skin while shaving. Many shaving creams contain glycerin and aloe vera, benefiting dry skin. If you have acne-prone skin, you may be aware that shaving creams are often not labeled as "non-comedogenic." Instead, it is important to carefully rinse off the shaving cream from the skin after shaving to avoid it drying and causing irritation or razor bumps. Taking care of the skin after shaving by rinsing off any remaining shaving cream can help reduce the risk of skin breakouts such as razor bumps or acne.
How do I build up a good lather with shaving cream?
Use a shaving brush and some water to build up a good lather with shaving cream. Start by moistening the shaving brush under warm water to soften its fibers. Next, take an amount of shaving cream, usually the size of a large almond, and place it in a bowl or directly on your face. Use the damp shaving brush to whip up the shaving cream in circular motions until a thick and creamy lather forms. If the foam is too thin or dry, add a little more water and continue beating until the desired consistency is achieved. Then apply the lather to the area to be shaved using the shaving brush.
Can I use shaving cream without a shaving brush?
Yes, it is possible to use shaving cream without a shaving brush. If you don't have access to a shaving brush, you can apply the shaving cream directly with your hands. You'll likely need a larger amount of product if you're only using your hands. To do this, you can take a small amount of shaving cream and spread it evenly over the area to be shaved. Be sure to moisten your hands slightly to facilitate application. Gently rub the shaving cream into the skin until it covers the area thoroughly. Remember to be careful and avoid pulling the skin to reduce the risk of skin irritation. Although a shaving brush can help create a better lather and smooth the shaving cream onto the skin, you can still get a good shave by applying the shaving cream with your hands.
Vali shaving cream
Vali shaving cream is specially developed to meet the needs of different skin types. For those with sensitive skin, Vali shaving cream is free of alcohol and other potentially irritating ingredients, making it gentle on the skin. In addition, Vali shaving cream contains both glycerin and aloe vera, which provides extra moisture and softness to dry skin during shaving.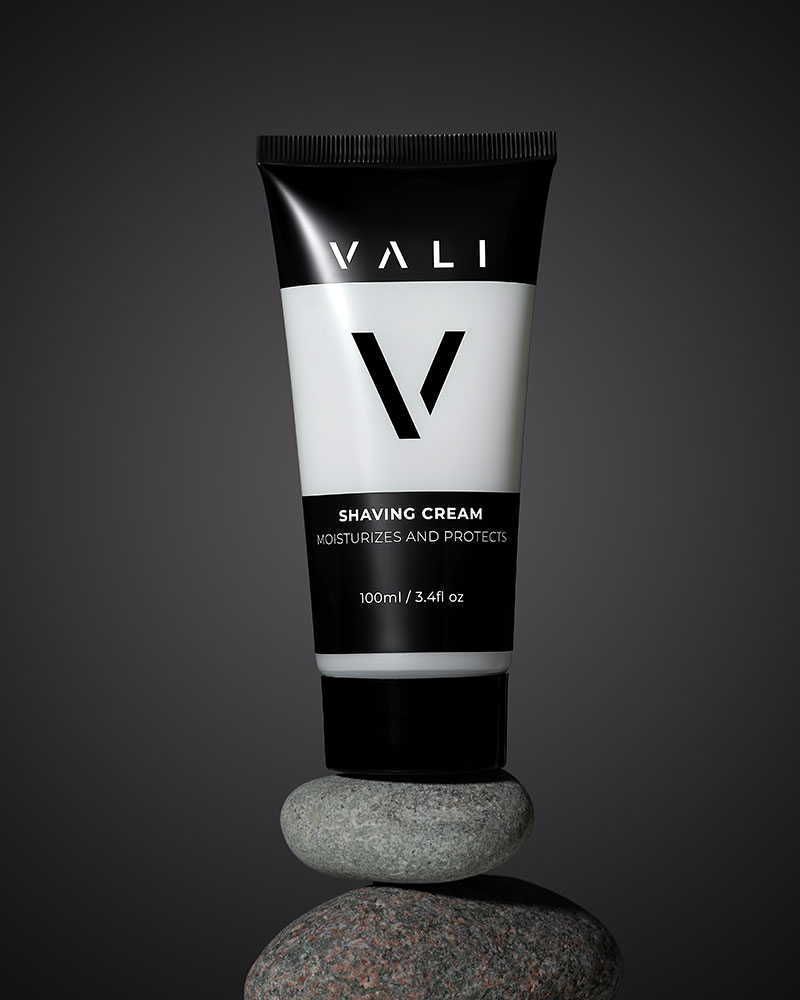 For those with problems with acne-prone skin, Vali shaving cream can be an excellent product. Although not explicitly labeled as "non-comedogenic," Vali shaving cream can help avoid clogging pores by rinsing thoroughly after shaving. By using Vali shaving cream and following a thorough rinsing routine, you can reduce the risk of skin irritation and the appearance of razor bumps.
Vali shaving cream is also made with carefully selected natural ingredients and is environmentally friendly. Especially compared to canned shaving foam. It gives you a rich and creamy texture that quickly builds up to a fine lather with the help of a shaving brush. You will experience a smooth and comfortable shave while moisturizing and protecting your skin.
Give your skin the best possible care and enjoy a luxurious shaving experience with Vali shaving cream.
Link tips
By clicking on the links below, you can get more information about our shaving guide, discover the benefits of Vali shaving cream and choose the perfect shaving brush for your shaving routine. We hope these resources will be helpful to you in achieving a perfect shave and enjoying a superior shaving experience.
Shaving Guide – We have a comprehensive shaving guide for beginners and experienced shaving enthusiasts. The guide contains detailed texts, illustrations and videos to help you in the best way. However, we also recommend exploring social media sites like YouTube to find additional information and tips from shaving experts.
Vali Shaving Cream – Discover the benefits of Vali Shaving Cream by visiting our online store or by purchasing it from some of our great stockists. Our shaving cream is carefully formulated with natural ingredients to provide a creamy and luxurious shaving experience that works for different skin types and needs.
Shaving brush – If you have decided to use shaving cream, the choice of shaving brush is of course important. We've also written an informative blog article summarizing the most common types of shaving brushes and their benefits. Explore the selection and choose the shaving brush that best suits your personal style and preferences.